Hi Maltheads,
die heutige Flasche ist eine besonderere aus dem Hause Suntory. Es handelt sich zwar um einen Blended Malt aber alleine schon das Edikett lässt auf etwas spezielles vermuten. Es zeigt einen Mann mit Noising Glas als Schattenbild.
Today's bottle is a special one from Suntory. It's a blended malt but the edikett alone suggests something special. It shows a man with noising glass as a shadow image.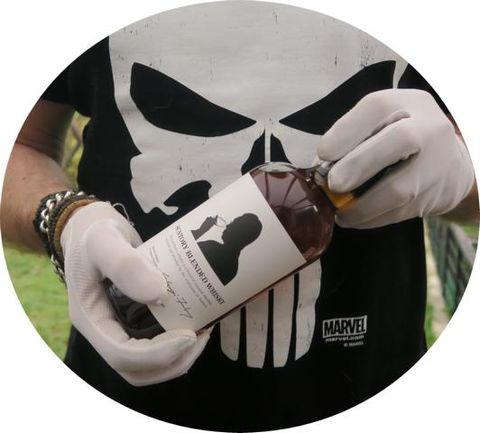 Es handelt sich um den Suntory Chief Blender Shinji Fukuyo der diesen japanische Premium-Whisky, der charakterisiert ist durch sein schweres orientalisches Profil für ein Einzelhandelskette BIC Camera ausgewählt und gemischt hat.
It is the Suntory Chief Blender Shinji Fukuyo who has selected and mixed this Japanese premium whisky, which is characterized by its heavy oriental profile for a retail chain BIC Camera.
Nach den Spezifikationen wurde dieser Ausdruck ausschließlich mit der Kernkomponente vermischt, die in Mizunara-Fässern mit einer durchschnittlichen Reife von etwa 25 Jahren oder mehr gereift wurde.
According to the specifications, this expression was mixed exclusively with the core component, which was matured in Mizunara barrels with an average maturity of about 25 years or more.
Obwohl weder das vordere noch das hintere Etikett es offenbar schriftlich ausweist, ist es bekannt das die Auflage auf 1000 Flaschen begrenzt ist.
Although neither the front nor the back label obviously proves it in writing, it is known that the edition is limited to 1000 bottles.
Zusätzlich ist die Flasche mit einer sehr stabilen aber einfach gehaltenen Holzbox die innen mit weißem Samt ausgelegt ist und ihr dadurch eine gewisse edele Note verleiht.
In addition, the bottle is with a very stable but simple wooden box which is lined with white velvet inside and thereby gives it a certain noble note.
Noch ein Satz zu Shinji Fukuyo der 1961 in der Präfektur Aichi der japaninschen Region Chubu geboren wurde.
Er kam 1984 zu Suntory und ist seit 2009 einer der Chief Blender und zu seinen Aufgaben gehören wie z.B. Yamazaki 12,18, 25 sowie Hakushu 12,18 & 25 zu entwickeln oder sie zu vermählen in einen Hibiki.
Another sentence about Shinji Fukuyo who was born in 1961 in Aichi Prefecture of Chubu, Japan.
He joined Suntory in 1984 and has been one of the Chief Blender since 2009. His responsibilities include developing Yamazaki 12,18, 25 and Hakushu 12,18 & 25 or marrying them into a Hibiki.

 Aber zurück zu den Key Facts der Suntory Blended Whisky 2014 - Mizunara
Distillery: Suntory
Kategorie: Blended Malt
Bottling Serie: Specially blended by Suntory Chief Blender
Destilliert: ?
Abgefüllt: 2014
Bottlling for: BIC Camera
Flaschenanzahl: 1000 Bottles
Cask-Typ: Mizunara ?
Cask-Nummer: #--
Coloriert: Nein
Kühlgefiltert: Nein
Alkoholgehalt: 43,0  % Vol.
Inhalt: 0,7 Liter
Herkunft: Japan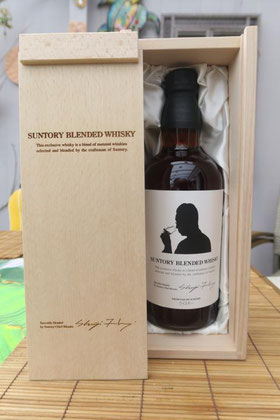 Tasting Notes / Verkostungsnotiz:
Bouquet: Eichig, erdig und fruchtig. Erinnert mich ein wenig an die Hanyu-Erde, die Erde in den Obstgärten der Steinfrüchte. Sehr ausdrucksstark für einen 43%gen Whisky. Süßholzsorten, Vanille- und Demerara-Rum, weiße Pfirsiche und eine Mischung aus Melonen aus Kantaloupe und Honigtau. Leicht verbrannter brauner Zucker, getrocknete Papaya und Aprikosen. Etwas Leder und süßen Tabak. Nimm dir etwas Zeit und nach und nach wird mehr und mehr enthüllt. Einige Lebkuchengewürze, Rosinen, überreife Bananen, Ananas und Orangen. Ich würde es eine Plüschnase nennen!
Gaumen: Cognac-ähnliche Fruchtigkeit, öliges/butterartiges Mundgefühl. Bourbonische Orange, Vanillepudding, Brandy Snaps, getrocknete Mangoscheiben, Zitrone, Grapefruit, Sherry, die Lebkuchengewürze. Demerara-Rum, mit Champagner getränkte Erdbeeren, Eukalyptus. Die Lebkuchengewürze verleihen diesem Dram mehr Pop am Gaumen, als man bei "nur" 43% Vol. erwarten würde.
Finish: Türkisches Brot in Olivenöl getaucht, orange getränkte Brandy-Schnappschüsse. Wird auf Leder, Tabak und reifer Eiche trockener, dann taucht er in Richtung Kohlefeuer, erdigen Torf, getrocknete Mango und Grapefruitbitterkeit.
Fazit: Ein sehr stilvoller Dram, der die Mixerkunst eindrucksvoll repräsentiert!

Nose: Oaky, earthy and fruity. Reminds me somewhat of Hanyu earthiness, the earth in orchards of stone fruits. Very expressive for a 43%abv whisky. Licorice allsorts, vanilla and demerara rum, white peaches and a mix of cantaloupe and honeydew melons. Slightly burnt brown sugar, dried papaya and apricots. Some leather and sweet tobacco. Take some time and little by little, more and more is revealed. Some gingerbread spices, raisins, overripe bananas, pineapple and oranges. I'd call it a plush nose!
Palate: Cognac like fruitiness, oily/buttery mouth feel. Bourbonesque orange, vanilla custard, brandy snaps, dried mango slices, lemon, grapefruit, sherry, the gingerbread spices. Demerara rum, strawberries soaked in champagne, eucalyptus. The gingerbread spices make this pop on the palate more than you would expect at 'only' 43%abv.
Finish: Turkish bread dipped in olive oil, orange soaked brandy snaps. Becomes drier on leather, tobacco and mature oak then drifts towards hints of coal fire, earthy peat, dried mango and grapefruit bitterness.
Last Word: A very stylish dram that impressively represents the art of mixing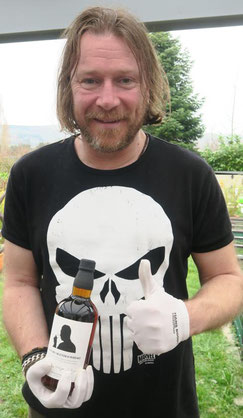 So, das war es mal wieder von mir und ihr werdet mit Sicherheit nicht zu letzten mal von einem Blended Malt aus dem Hause Suntory in meinem White Gloves Blog lesen.
Well, that's it again from me and you won't read for sure the last time about a blended malt from Suntory in my White Gloves Blog.
Den nächsten Blog gibt es wieder in einer Woche.
In diesem Sinne
Kanpai
Jojo
The next blog will be available in a week.
In this sense
Kanpai
Jojo